EA Sports FC 24: The Best Players In TOTW 4 Revealed
Oct-12-2023 PST
FC 24 has been accessible to all players for a couple of weeks, however, it was released on early access prior to the full launch, which is why we already have the TOTW 4 squad.
If you're a veteran of Ultimate Team you already know the drill, but if you just jumped into the franchise with FC 24, allow us to explain. Team of the Week squads, TOTW for short, are comprised of players who had outstanding performances over the weekend.
EA Sports usually takes into consideration performances from players competing in the top European leagues, although some representatives from across the world are included here and there.
So with that said, let's take a look at the TOTW 4 squad in FC 24 and give you some information on the cards featured in EA's latest promo!
FC 24 TOTW 4 is out now & how to get
The players available as part of TOTW squads are known as in-form cards. They are only available for a week so it's indispensable that you don't miss these key dates.
TOTW 4 was released on 11 October and will last for a week before it is replaced by TOTW 5, so if you want to pack one of these players, now is your time!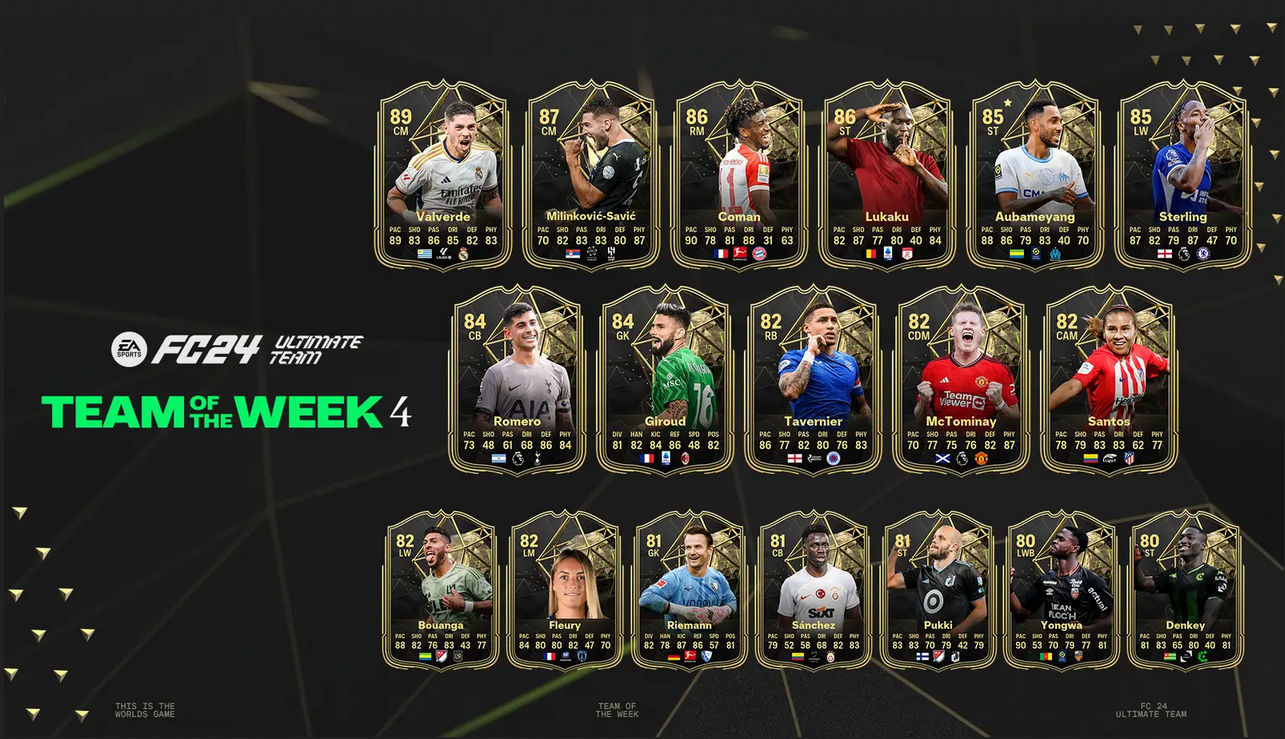 FC 24 TOTW 4 Best Players
• Federico Valverde (Real Madrid) - 89 OVR: The Uruguayan midfielder is already considered one of the best in the game, and his in-form card is even better. Valverde grabbed two assists in a 4-0 win against Osasuna over the weekend.
• Kingsley Coman (Bayern Munich) - 86 OVR: Coman has been in excellent form for Bayern Munich this season, and his TOTW 4 card reflects that. The French winger scored twice in a 3-0 win against Freiburg.
• Raheem Sterling (Chelsea) - 85 OVR: Sterling has struggled since joining Chelsea from Manchester City, but he's been their standout performer so far this season. He scored one goal in a 4-1 away win against Burnley.
• Olivier Giroud (AC Milan) - 84 OVR: Yes, you read that right. Giroud is featured in TOTW 4 as a GOALKEEPER. The Frenchman had to put on Mike Maignan's shirt and gloves after he was sent off against Genoa, before making a great save and keeping a clean sheet, giving Milan the 1-0 away win.
FC 24 TOTW 4
Based on weekend performances the following players also feature in TOTW 4, with some a dead-cert from the minute the final whistle blew. One of those is Bochum's Manuel Riemann. The goalkeeper put on a clinical performance against RB Leipzig, making five saves, stopping two penalties, and keeping a clean sheet for his squad.
Goalkeepers
Manuel Riemann - VFL Bochum - 81 OVR
Defenders
James Tavernier - Rangers - 82 OVR
Cristian Romero - Tottenham - 84 OVR
Davinson Sanchez - Galatasaray - 81 OVR
Darlin Yongwa - Lorient - 80 OVR
Midfielders
Sergej Milinkovic-Savic - Al-Hilal - 87 OVR
Scott McTominay - Manchester United - 82 OVR
Leicy Santos - Atletico Madrid - 82 OVR
Wingers
Denis Bouanga - LAFC - 82 OVR
Louise Fleury - Paris FC - 82 OVR
Strikers
Pierre-Emerick Aubameyang - Marseille - 85 OVR
Romelu Lukaku - Roma - 86 OVR
Teemu Pukki - Minnesota - 81 OVR
Kevin Denkey - 80 OVR
So there you have it! For more Ultimate Team and EA FC 24 content, check out the Trailblazers hub we have prepared for you. If you're in the mood to try out Career Mode, then don't miss out on the best CAMs for you to sign!
We also have the cheapest solutions for the following SBCs:
David Beckham Icon SBC
84+ Double Upgrade
Jonathan David RTTK SBC
Steven Bergwijn RTTK SBC
Tips for Using TOTW 4 Players
TOTW 4 players are some of the best players in the game, so it's important to use them wisely. Here are a few tips:
• Use them in your starting lineup: TOTW 4 players are good enough to start for any team. If you have any TOTW 4 players, make sure to put them in your starting lineup.
• Use them in the right positions: Make sure to play TOTW 4 players in their best positions. For example, if you have a TOTW 4 striker card, don't play him at left-back.
• Use them in a team that suits their playstyle: If you have a TOTW 4 midfielder card who is good at dribbling and passing, make sure to play him in a team that plays possession-based football.
Conclusion
EA Sports FC TOTW 4 is a strong squad with some exciting in-form cards. If you have any TOTW 4 players, make sure to use them wisely.
For more of the latest FC 24 content, be sure to keep up to date with NBA2King.