EA Sports FC 24 TOTW 6: Best Players to Pack
Oct-26-2023 PST
FC 24 is in full swing, and with it comes the release of Team of the Week 6! This week's TOTW features some of the best players from around the world, including Antoine Griezmann, Leon Goretzka, and Jeremie Frimpong.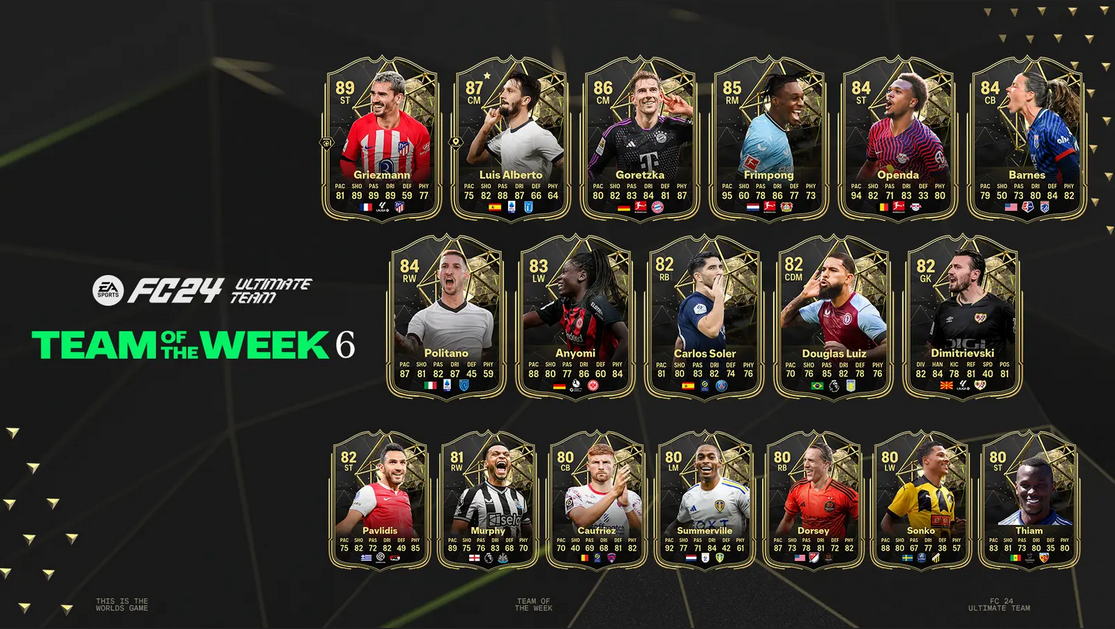 Top 3 Players in TOTW 6
1. Antoine Griezmann (Atletico Madrid - 89 OVR)
Antoine Griezmann was instrumental in Atletico Madrid's 3-0 win over Celta Vigo at the weekend. The Frenchman scored all three goals in a Man of the Match performance. His TOTW 6 card has been given a +1 upgrade to his 88-rated Rare Gold card, and with the added stats and the Finesse Shot PlayStyle+, he is going to be unstoppable in-game.
2. Leon Goretzka (Bayern Munich - 86 OVR)
Leon Goretzka has re-joined the 'Gullit Gang' with his TOTW 6 upgrade. His stats have been boosted to all 80+! The German midfielder grabbed a goal and an assist in a 3-1 away win to Mainz. Goretzka is one of the most popular midfielders in the game, and a healthy boost to his card is only going to see him gain in popularity!
3. Jeremie Frimpong (Bayer Leverkusen - 85 OVR)
Bayer Leverkusen currently sits top of the Bundesliga, and Jeremie Frimpong has been one of the league's standout performers so far this season. The Dutchman has been given an 85-rated RM card in TOTW 6, however, he is the perfect right-back. Frimpong got a goal and an assist in a 2-1 win away to Wolfsburg, and his TOTW 6 inform has an insane 95 pace!
Other Notable Players in TOTW 6
Luis Alberto (Lazio - 87 OVR)
Lois Openda (Lens - 84 OVR)
Lauren Barnes (Arsenal - 84 OVR)
Matteo Politano (Napoli - 84 OVR)
Nicole Anyomi (Eintracht Frankfurt - 83 OVR)
Carlos Soler (Paris Saint-Germain - 82 OVR)
Douglas Luiz (Aston Villa - 82 OVR)
Stole Dimitrievski (Rayo Vallecano - 82 OVR)
Vangelis Pavlidis (AZ Alkmaar - 81 OVR)
Jacob Murphy (Newcastle United - 81 OVR)
Maximiliano Caufriez (Vélez Sarsfield - 80 OVR)
Crysencio Summerville (Leeds United - 80 OVR)
Griffin Dorsey (FC Dallas - 80 OVR)
Momodou Sonko (FC Sochaux-Montbéliard - 80 OVR)
Mame Thiam (Fenerbahçe - 80 OVR)
How to Get TOTW 6 Players
TOTW 6 players will be available in packs from 10:30 am BST on Wednesday, 26 October until 10:30 am BST on Wednesday, 1 November. You can open packs using coins or FIFA Points, or you can complete Objectives and SBCs to earn packs.
How to Pack TOTW 6 Players
TOTW 6 players can be packed in any pack in Ultimate Team, including regular packs, upgrade packs, and special packs. However, the best way to improve your chances of packing a TOTW 6 player is to open packs that guarantee a rare player or higher.
Some of the best packs to open for TOTW 6 players include:
Rare Gold Packs
Premium Gold Packs
Ultimate Packs
Player Picks
Special Packs
You can also earn TOTW 6 players through Squad Building Challenges (SBCs) and Objectives. SBCs require you to submit a squad of players that meets certain criteria in order to earn a reward. Objectives are similar to SBCs, but they typically require you to complete tasks in-game, such as scoring goals or winning matches.
Conclusion
TOTW 6 is a great opportunity to add some of the best players in the world to your FC 24 Ultimate Team squad. If you have the coins, be sure to open some packs and try your luck at packing one of these inform players.
Keep up to date with NBA2King.com channels for the latest FC 24 content and FC 24 FUT Coins promotions!