EA Sports FC 24: TOTW 8 is Here
Nov-09-2023 PST
EA SPORTS FC 24 Team of the Week 8 (TOTW 8) has been released, featuring some of the best performers from around the world over the weekend. The team includes players from Barcelona, PSG, Manchester City, and more.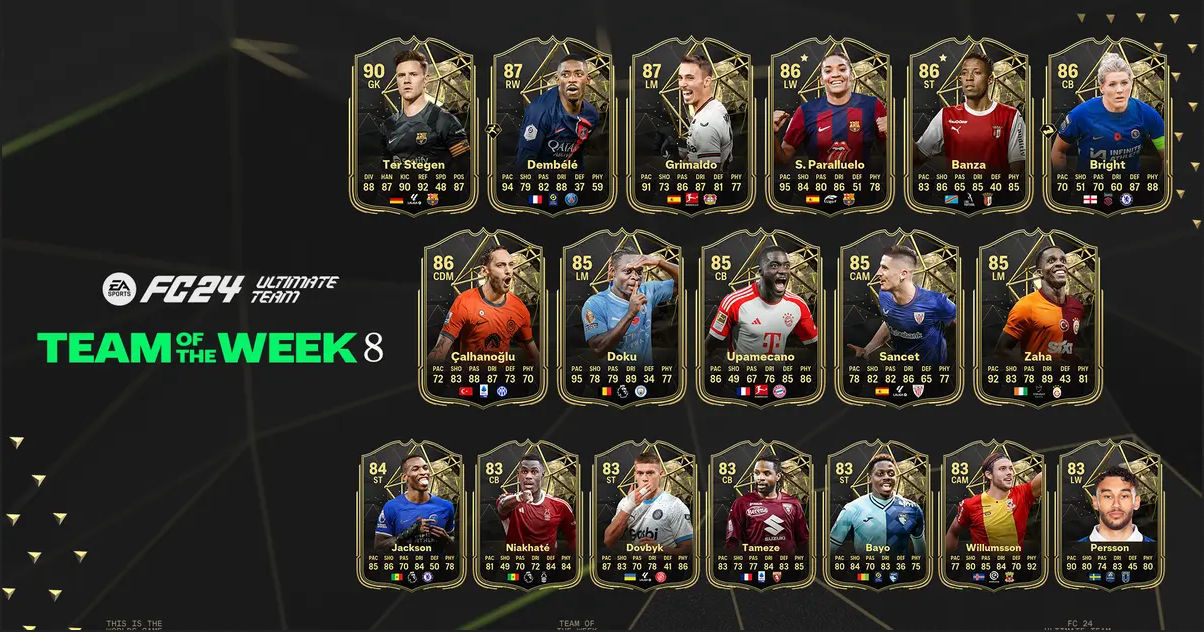 TOTW 8 Release Date and How to Get
TOTW 8 was released on Wednesday, November 8 at 6 pm GMT. Players can be obtained by opening packs or purchasing them off the transfer market.
The Cream of the Crop: TOTW 8 Players
Team of the Week is a prestigious lineup, showcasing the best performers from the previous game week. With only 18 slots available for player upgrades, EA has to make strategic choices. Let's highlight the four highest-rated players in TOTW 8 that could add a game-changing dynamic to your Ultimate Team:
1. Marc-Andre ter Stegen (Barcelona - 90 OVR)
The German shot-stopper secured a crucial 1-0 win for Barcelona against Real Sociedad, making six saves and keeping a clean sheet. Ter Stegen now holds the title of the highest-rated goalkeeper in TOTW 8, a testament to his exceptional performance.
2. Ousmane Dembele (PSG - 87 OVR)
Known as one of the most popular wingers in Ultimate Team, Dembele solidified his status with an 87-rated card. His assist in PSG's 3-0 victory over Montpellier showcased his blistering pace (84) and exceptional dribbling (88), making him a nightmare for defenders.
3. Alex Grimaldo (Bayer Leverkusen - 87 OVR)
Returning to Team of the Week after just five weeks, Grimaldo earned his second inform of the season. The Spanish fullback, thriving in Germany, scored a brace against Hoffenheim in a thrilling 3-2 win, earning him an impressive 87 rating.
4. Salma Paralluelo (Barcelona - 86 OVR)
The 19-year-old dynamo had an extraordinary week, finishing third in the Ballon d'Or rankings and netting four goals in an 8-0 triumph over Sevilla. With a dazzling 86-rated TOTW card, featuring 95 paces, 84 shooting, 80 passing, and 86 dribblings, Paralluelo is a rising star to watch.
Beyond these stars, TOTW 8 features a lineup of standout players across different positions:
Defenders:
• Millie Bright (Chelsea - 86 OVR)
• Dayot Upamecano (Bayern Munich - 85 OVR)
• Moussa Niakhate (Nottingham Forest - 83 OVR)
• Adrien Tameze (Torino - 83 OVR)
Midfielders:
• Hakan Calhanoglu (Inter - 86 OVR)
• Oihan Sancet (Athletic Bilbao - 85 OVR)
• Willum Willumsson (Go Ahead Eagles - 83 OVR)
Wingers:
• Jeremy Doku (Manchester City - 85 OVR)
• Wilfried Zaha (Galatasaray - 85 OVR)
• Joakim Persson (IK Sirius - 83 OVR)
Strikers:
• Simon Banza (SC Braga - 86 OVR)
• Nicolas Jackson (Chelsea - 84 OVR)
• Artem Dovbyk (Girona - 83 OVR)
• Mohamed Bayo (Le Havre - 83 OVR)
Other FC 24 News
In addition to TOTW 8, EA SPORTS FC 24 has also released a new Evolutions promo, featuring Centurions cards for attacking midfielders. There are also new SBCs available for Gordon, Barella, and Vidic.
Where to Find More FC 24 Content
For more of the latest FC 24 content, be sure to visit NBA2King. We have guides, news, and more to help you improve your Ultimate Team.