Madden NFL 24 TOTW 9: The Power-Packed Roster
Nov-10-2023 PST
Another NFL week is done and dusted, and Madden players are already eyeing up who will be getting Madden 24 TOTW 9 cards. This week's biggest performances will be rewarded with some epic cards.
As the ceiling has now moved to 91 OVR, this should be the best Team of the Week program so far. But who could feature in it? Let's find out!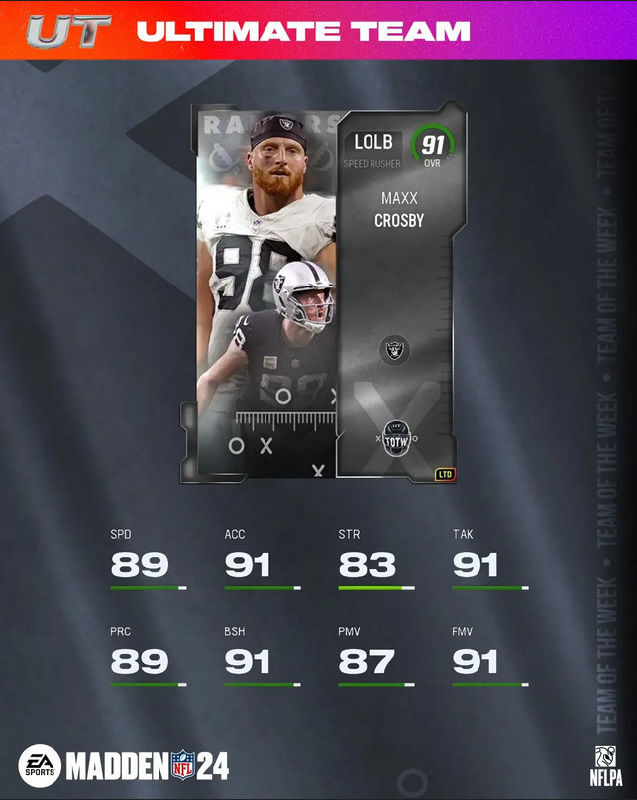 TOTW 9 Cards Revealed
As tradition demands, all the TOTW cards were revealed in the first GMM stream of the week. This stream also announced the brand-new Division Dynasty program and revealed the second batch of All Madden cards.
There were many worthy candidates for TOTW 9, but unfortunately, not all of them made it. However, most of the players predicted by Realsport101 are indeed part of TOTW 9.
Golds (82 OVRs)
Dare Ogunbowale - K - Texans
Bryan Cook - SS - Chiefs
Elites (84 OVRs)
Diontae Johnson- WR - Steelers
Shelby Harris - DT - Browns
Heroes (88 OVRs)
Paulson Adebo - CB - Saints
Aaron Jones - HB - Packers
LTD's (90 OVRs)
Maxx Crosby - LOLB - Raiders
Michael Thomas - WR - Saints
Champions (91 OVRs)
Kenny Moore II - CB - Colts
Joshua Dobbs - QB - Vikings
TOTW 9 Release Time
As ever, TOTW is set to arrive in Madden 24 at 1:30 pm ET/6:30 pm GMT on Wednesday 8 November. The same day the Divison Dynasty program also arrives at MUT.
How to get TOTW 9 cards
TOTW 9 cards can be obtained through a variety of ways, including:
• Packs: TOTW 9 cards can be found in a variety of packs, including TOTW packs, Ultimate Team packs, and even some promotional packs.
• Auction House: TOTW 9 cards can also be purchased and sold on the Auction House.
• Challenges: EA Sports often releases challenges that reward players with TOTW cards.
Tips for Getting the Most Out of TOTW 9
Here are a few tips for getting the most out of TOTW 9:
• Identify your needs: Before you start buying packs or completing challenges, take some time to identify your team's needs. What positions are you weakest at? What type of players do you need to fill out your roster?
• Set a budget: It's easy to get caught up in the excitement of TOTW and overspend. Before you start buying packs or bidding on players, set a budget for yourself and stick to it.
• Be patient: Don't expect to get all of the best TOTW 9 cards right away. It takes time to build a strong team. Be patient and keep grinding coins and completing challenges.
Overall, TOTW 9 is shaping up to be one of the best TOTW programs of the year. With a number of standout players featured, there's sure to be something for everyone in this week's program. For comprehensive guides and the latest news on Madden 24, enthusiasts can turn to reliable sources like NBA2King. When you buy Madden 24 MUT Coins through our website, you will get more discounts.